Design Your Own Custom Name Stickers!
Get Your SWAG On with RC SWAG Tags
Our custom name or text stickers are durable, high-res, full-color sticker decals. Customize YOUR RC SWAG sticker with
Your Custom Text

Use your name, company, nick name, race team, etc.
Pick Letter Style

11 Font Letter Styles to choose from – more added daily!
Pick Layout Style

Choose from One Line, Two Lines, Two Letter Styles, Centered, Left Justified
Add an Icon

Accent your name tag with an icon or logo of your choice
Choose Your Colors

With our custom color picker you can choose your letter, outline & background colors
We need to see your License annnnd…
Don't get pulled over with the cheap stuff!
RC Swag specializes in miniature, scale license plate sticker decals with custom plate frame embellishment.
Our custom scale license plates are high-res, full-color & hand-made. Customize YOUR miniature license plates with
Pick a Plate Background

Over 50+ US State Plates, Solid Black or White
Pick a Frame style

Color Changing Chrome, Silver Matte, & Basic Colors in Glossy
Add Your Custom Text

Or add an Icon, Custom Graphic or Logo

Show Us Your RC SWAG Pics to be entered in our next SWAG GRAB BAG giveaway!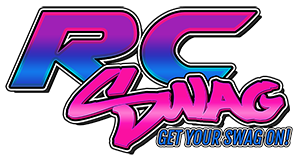 Go Back to School
RC Swag Style
The King Yellow by Tamiya is a 6×6 six-wheeled R/C vehicle with polycarbonate school bus body ready to take the "kids" at the track back to school!
Get yours today & Get Your RC Swag On!
Want to WIN
FREE
RC Swag?
Send us your RC Funny or RC MEME and get featured for a chance to win a pick from the RC SWAG BAG!!